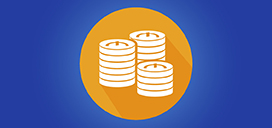 We can make much more profit by depositing our savings every month. Thus, Yapı Kredi Bank Azerbaijan offers you Savings Deposit.
At the end of period

Period

Amount

250-10 000 000

AZN

USD

EUR

6 months

5,00%

0.25%

0.00%

9 months

5.50%

0.25%

0.25%

12 months

6.50%

0.50%

0.25%

24 months

6.50%

0.50%

0.25%

36 months

6.50%

0.50%

0.25%
Note: In the case of early withdrawal of savings, deposit is charged at 0.05 % per annum.
Interest will be paid at the end of the period
Deposit amount can be increased by minimum 5 AZN for once,
*Annual interest income on the deposit of physical persons by local bank and its branches operating on the territory of the Republic of Azerbaijan within 3 years from February 1, 2016, as well as dividend, paid on investment securities issued by issuer, discount (the difference resulting from the placement of the bond below the nominal value) and interest income is exempted from taxes.

** INFORMATION ON INSURANCE
The high interest rates on bank deposits insured by the Fund have been set up to 15% per annum for AZN and up to 3% per annum for Foreign Currency and in full amount with the decision of Azerbaijan Savings Deposit Insurance Fund Trustees Board.